What's SUP yoga? No, SUP yoga has nothing to do with the slang phrase "what's up"; it actually stands for standup paddle boarding. SUP yoga is a super fun and creative style of yoga that is the perfect workout. Here are the reasons why you should try out SUP yoga this summer.
Background
To understand SUP yoga, you will need some background information. SUP yoga is the combination of standup paddle boarding and yoga. Standup paddle boarding is a water sport that started in Hawaii and has quickly gained popularity around the globe. Standup paddle boarding is similar to surfing except that it is done in flat waters and protected bays.
In order to standup paddle board all you have to do is stand up on the board and paddle your way through the water. It's generally a very soothing activity, which makes it a perfect pair for yoga.
Benefits
Standup paddle boarding provides some benefits on its own. It increases balance, strengthens your muscles, and increases weight loss.
Yoga provides benefits such as increased strength and flexibility and physical and mental relaxation.
The combination of the two increases cardiovascular health and blood circulation. It also substantially increases the balance and strength that you get with standup paddle boarding and yoga on their own.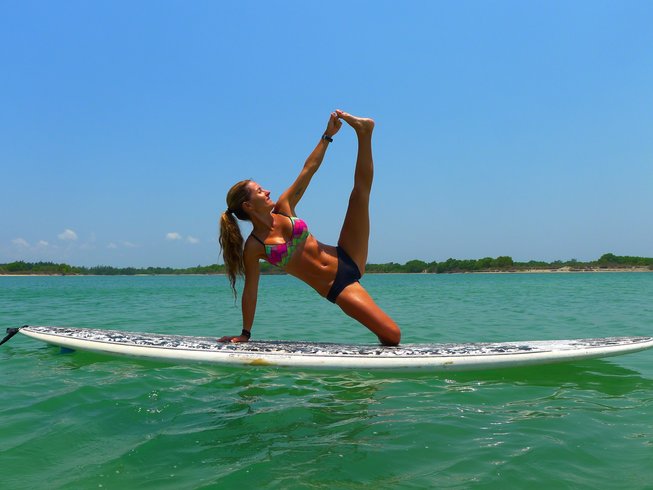 Practice
SUP yoga classes start off with a short warm up paddle to the spot that the majority of the practice will be held. This warm up loosens up the muscles to get ready to practice.
After the warm up, the class begins to become more yoga focused. It typically starts with the seated breathing techniques and sun salutations. Practice will then move into more intense poses such as warrior postures. The class will also incorporate fitness exercises such as planks and lunges.
There is no set structure to SUP yoga classes. Often, there are small intervals of paddling done in the middle of class to get the boards back into position.
You might get a little wet, but SUP yoga is a growing summer activity. Combining the relaxation of stand up paddle boarding with the relaxation of yoga creates a beautiful form of exercise. Not only will you get physically fit from this form of yoga, you will also feel calm, relaxed, and refreshed after practice. If you find yourself "board" with classic yoga this summer, give SUP yoga a try.
Read More